MEASURING FOR SHUTTERS

ALWAYS USE A STEEL MEASURING TAPE

1. FOR INSIDE RECESS
Measure inside the recess both the width and the drop in a few locations and give us the smallest measurement.
Choose the type if frame L or Z (we recommend L for outside and Z for inside recess)
Select the slat size making sure opening and closing is not obstructed by door handles or anything
Inward opening of windows is not specific in the UK but if it is the case please call us.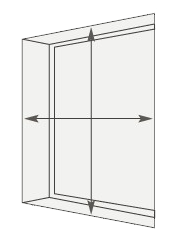 2. FOR OUTSIDE RECESS
Give us the measurements over the recess you like to cover with the L frame
Double check if door handles or other obstructions are in the way and prevent slats to open or close.
How to measure for bay window

In order to measure a 3 panels bay window for your shutters you will need to choose an L frame type when placing the order online and make the templates for this type of frame. The sizes of the L frame are: 47mm x 37mm x 19mm.
1. Draw the templates onto pieces of paper with the above L frame, ensuring they are the exact sizes mentioned above and then cut each one of them.
2. Position the templates at the bottom of the windows, right in front of them, as shown in the sketch below. Ensure the templates are placed on sill clear of opening handles.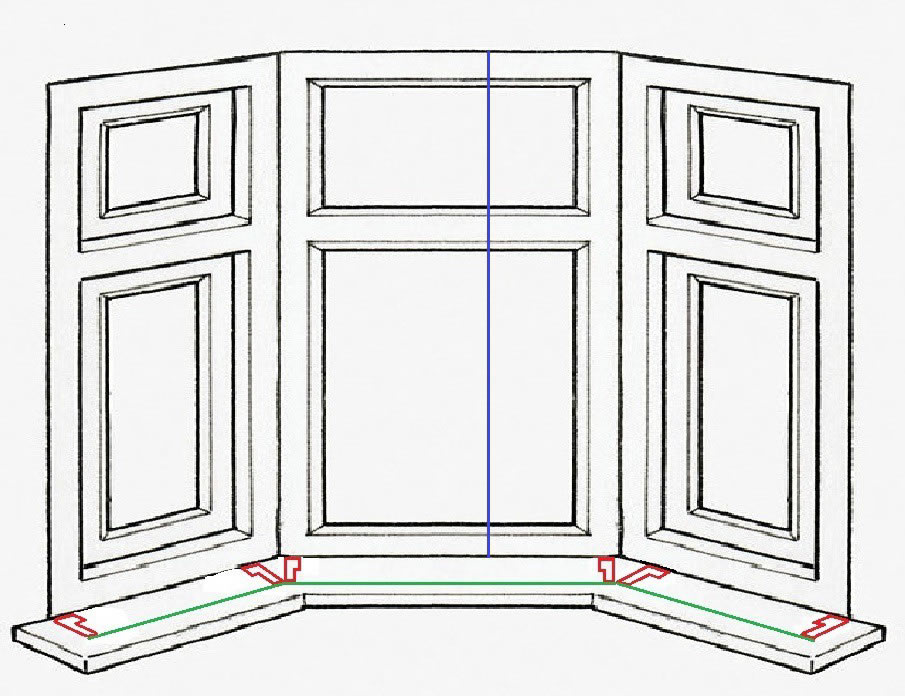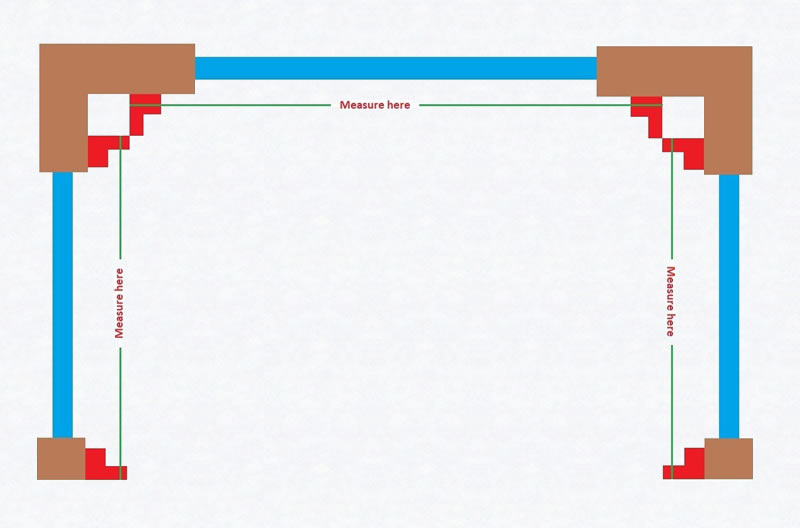 3. Width:
With a steel measuring tape measure each section width (the width supplied needs to include the templates) as per the green lines. Measure each panel in several places - top, centre, bottom- and give the smallest size obtained. The templates are showing where your shutter frames will be fixed.
4. Drop:
Measure the drop as per the blue line in several places and give the smallest size obtained (the size of the drop should be measured according to the type of shutter chosen). When the order is being placed, the drop should be the same for all 3 panels so that they line up evenly.