Measuring Roller Blinds

Please note that the total blind width is composed of the fabric width and the size of the brackets (35mm).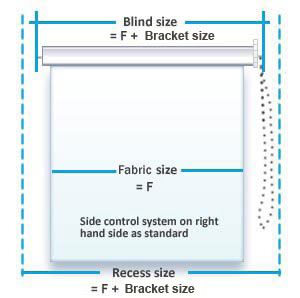 For OUTSIDE RECESS Mounting - the shade will be manufactured in the exact measurements indicated from one bracket to the other. The resulting shade will consist of the cloth size plus the controls and brackets, as shown in the right hand picture.
For INSIDE RECESS Mounting - 3mm will be automatically deducted from the measurements indicated. This way, the blind including the brackets and controllers will fit inside the recess.
Please note:
In case of outside recess mounting, make sure the blind overlaps the walls on both sides for efficient window light blocking, especially when opting for blackout roller shades. Also, check for obstacles in the mounting area (window catches, electrical sockets, tiles etc.)
Always order as width x drop
Always use a steel tape measure
Indicate all sizes to the nearest millimeter
Please keep in mind that roller shades exceeding 1900 mm in width or 2800 mm in drop might feature a joint in the fabric.
In case you opt for Top Cassette Roller Shades, 35 mm will be deducted from the total width of the fabric.