Every interior needs window blinds and new ones always brighten up a home. Even if some see them as a big expense, blinds can actually be found as an inexpensive household purchase. Their added value far surpasses the cost of purchase and fitting, so they can translate to a minor investment and a sustainable home improvement at the same time. Most important, don't forget that quality window blinds are really worth that little extra cash, if that is the case.

But today, with tons of blinds out on the offer and a slew of options in terms of materials, designs, styles, colours and features to choose from, it can end up being a daunting task shopping for the right window coverings to suit your living spaces or office.

How does anyone decide between roller and roman, vertical and venetian, between patterned and plain, real wood and faux wood? Thankfully, we are in the blinds industry so take some advice on what would be best for you from some experts. To sum up descriptions and advantages of the types of window treatments available for you, we have developed a guide to choosing window blinds.

The basic purpose that the window shade fills is that of blocking external light, offering light control and protecting your privacy. Having a myriad of other traits as well, people get to choose based on cost-effectiveness, appearance of the blinds, upgrades, functionality. Purchasing window coverings is a multi-way advantage for most customers.

Let's start with energy savings. Energy saving is achieved through a thermal lining that prevents heat and cold transfers with the outside. This will reduce costs on heating and air conditioning bills. If you want your house to be cool in the summer and warm in the winter and in the same breath save money through a more energy efficient home, a lining with energy saving properties will do the trick.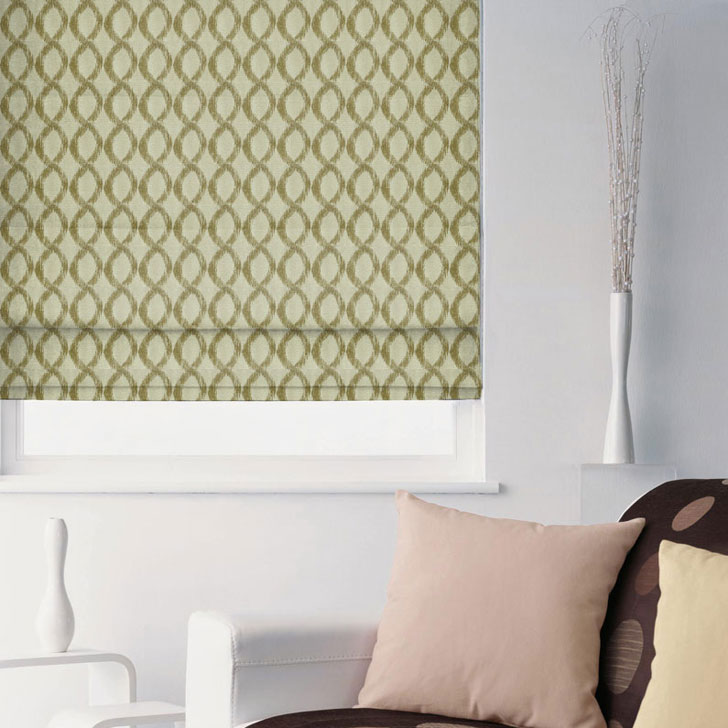 Prestigious Karlstad Linen Energy Saving Roman Blinds

Energy saving can also be achieved through real wood blinds, as wood is known to be a natural insulator, keeping the heat out during summertime and the cold out all throughout the colder periods of the year.

This brings us to the real wood vs. faux wood blinds discussion. It depends on practicality and location when choosing between these two.

As the slats are made from lightweight timber, real wood blinds are better for wider windows and this helps the entire blind be raised and lowered effortlessly, ensuring durability. Real wood is usually treated with a special lacquer coat that makes it resistant to fading, scratches, humidity, fire and UV rays.

Faux wood blinds are most suitable for smaller areas as they tend to be heavier in weight than traditional wood ones. The biggest advantage of fake wood blinds is that you can preserve the natural look of wood around your windows even in high humidity locations, like bathrooms, laundry rooms and kitchens, because they are resistant to water, steam, dirt, grease, fire and scratches. You cannot put real wood blinds in humid rooms as they will warp, chip or fade over time.

Real or faux, wood blinds create the perfect backdrop to either old or new, contemporary or classic residential spaces. Wood effect blinds are an economical way for those who want to create a stylish look while still staying on budget.



Tasmanian Oak Real Wood Blinds

Faux wood blinds and aluminium venetian blinds are easy to clean as well, as you can wipe right off any food spills, water or detergent that gets splashed on these shades. Cloth based blinds can't handle these harsh environments as they absorb moisture and it's more difficult to take the dirt out of them.

In these situations we advise to stay away from roman blinds, roller or vertical blinds. They are perfect for living rooms, dining rooms, bedrooms, offices and study rooms. They can be light filtering to gently diffuse natural light and tone down the sun's glare, creating a soft and cosy atmosphere, but they can also be blackout, blocking any unwanted light and harmful sun rays from coming inside.

Fabric panels like in the case of roman and roller blinds will catch and hold less dust than curtains and are easier to maintain than venetian blinds, for example, through vacuuming or simple dusting. Vertical blinds give the illusion of a taller window and are ideal on sliding patio doors, French doors and bay windows.

Now that we have talked about designs, fabrics and features, we can move onto colour palettes and patterns.

With such a wide swath of plain and hue combinations, you need to keep a clear head in order to opt for window treatments that will match to the decor of the room you want to install them in and which will coordinate with the colour scheme and the style of your room, for a polished look. Whether it is casual and comfortable or formal and sophisticated, you will need to know if you want your future window blinds to pop or to blend.

A bold colour will have a wow effect and will draw the eye when entering a room decorated in neutral, earthy colourways. Choose striking, dominant hues if you want the window area to be the accent hue. Fun colours in the yellow, red and lime section are guaranteed to be a spectacular fit in surroundings with calm, neutral-coloured upholstery and walls, acting as a major focal point.

A rule of thumb for the other way around : If you have bright, vibrant patterned furnishings, don't overdo it with funky patterned, floral or stripe blinds. Get them in a plain design with subtle, sleek lines in toned down shades, to bring serenity and elegance. Soft, plain colourways, ranging from whites to browns, are guaranteed to beautifully blend in and successfully streamline an interior décor.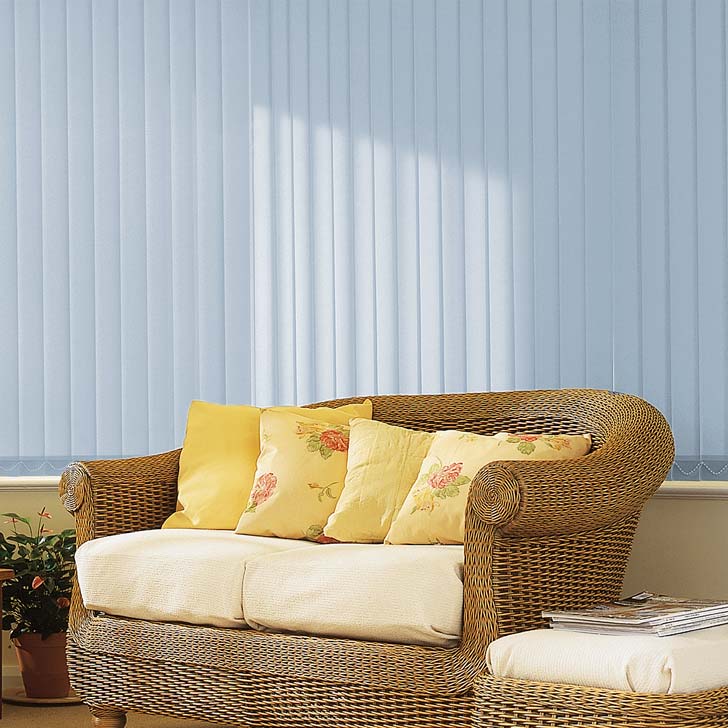 Vision Cotton Blue Vertical Blinds

Graphic models tend to stand out against muted tones, making the blind a centerpiece by itself. Big bold motifs are perfect for large windows, whilst small-scale patterns add a subtle and refined look and are perfect for small rooms, without being too busy or overpowering them.

Getting back to one of the main functions of window coverings, that of providing intimacy, the fabric thickness of the blind is influenced by the location factor.

Hang sheer blinds in rooms where you want to let the sun shine in and that are used primarily during the day. They have low to medium light filtering abilities and offer great visibility to the outside during daytime, without completely blanking out the view and generally without being seen back. Supplement a sheer blind with heavier curtains to be drawn at night to provide greater privacy.

In bathrooms and bedrooms you will definitely want to have more opaque window treatments. Thicker materials will shield your furnishings, hardwood floors and rugs from fading caused by direct sunlight's damaging UV radiation and heat better.

We hope we have rounded up a comprehensive set of rules with what you need to keep in mind when going window shade shopping and successfully get the ones that meet your needs as well as add beauty and efficiency to your living areas.